January 25, 2012
Filed under:
Featured
,
Health
,
Health & Fitness
,
Play

Posted by:
Joe Decker

Original Article
Photo Courtesy of Gut Check Fitness
If you haven't already made the commitment, its time to make those annual 'resolutions' to get your act together.  This is the year to get put those elastic pants away and into another shape besides round.  No more fooling around. You're gonna make it happen this year.  Sound familiar? For many, I'm sure it does.
Never fear Carmel Valley San Diego Community, you've still got some time, but you've gotta act now.  No more procrastinating.  It all begins with a 'serious' commitment to yourself, and not a two cocktails deep at midnight decision.  Here's a weekly workout plan I've been using for years that should help.  Let's do this!
*Quick side note.  I've been doing this a long time.  Have seen thousands of New Year resolutions come and many of them go.  If I can give you one more suggestion, that is not to make your resolution the typical lose 10lbs or get into shape.  Why?  Because many times these leave you hanging after they are achieved.  You lose 10lbs then what?  My suggestion is to set goals throughout the year that will help keep you motivated and on track.  Feel free to rope your Carmel Valley friends in too.  For instance, one of our King of the Hill races in the spring, a triathlon in the summer, a half or full Marathon in the fall and finish it off with a crazy event like a Spartan Race or GORUCK Challenge. See how easy that was?
Commit.
OK, so you've made up your mind to get in shape. What next?  You must have a plan.  "Fail to plan and you will plan to fail," as the saying goes.  Keep a basic monthly calendar on your fridge that lays out your daily workouts.  That way, every morning when you get up and walk into the kitchen, you'll see what your daily fitness appointment is that day.  Treat this as an important–cannot-be-missed meeting.  It's that important; and yes, you are worth it.
I'm committed so what's the plan?  I've been doing this fitness stuff for many years.  It's my passion and my life, but I've had speed bumps too.  Throughout most of these years I've had a basic weekly plan that I've followed.  It's the same one we teach daily at my boot camp company, Gut Check Fitness.  You don't need a gym or any fancy equipment.  All you need is your imagination, a little fire in your stomach and a few pounds of determination.
If you're truly serious about getting fit and shredding some weight, I recommend you try working out at least 5 days a week.  Consistency is the name of the game. Get yourself some climate dependent comfortable workout gear and a good pair of running shoes.  The last thing you'll need is a pair of dumbbells (or a 2-liter bottle, a brick, big rock or sand bag lying around your house if you don't have the equipment).  Most guys use 15 to 40-pounds and the gals use 8 to 15 pounds.
Next is the workout plan.  I'll break down a week for you to give you an idea of how it works.  The goal is for you to take this format, get creative, and build your own plan.  Or find a great strength training workout program on Active Trainer for beginners, intermediates or advanced fitness levels.
Monday
Start out with five to 15 minutes of walking or jogging to get warmed up. It's time for some bodyweight calisthenics.  There are a few ranges you can work with.  Beginners may want to start with less and the more advanced fitness folks can use the upper range.  We're going to do 2-3 sets of 10 (beginners) to 50 (advanced) of each exercise.  Go through the list and do each exercise one time with 10 jumping jacks or burpees for you HOORAHS in between.  Then do the circuit again. (Note: I love to do a descending pyramid of 50-40-30-20-10 but can generally do this with only 5—6 exercises.)
Pull-ups (regular or modified)
Starbursts
Sit-ups or crunches
Speed skaters
Push-ups
Alternating lunges
Dips
Leg lifts
Repeat and remember to do the 10 jumping jacks or burpees between each exercise. Finish it off with five to 15 minutes jogging or walking and 10 to 15 minutes of stretching.
Tuesday
It's time for hill or stair repeats.  Always remember to start with a five to 15 minute warm-up and finish with a five to 15 minute cool down and 10 to 15 minutes of stretching.  Find a hill or set of stairs–the steeper the better.  I always say, "Gravity and fat are bitter enemies and one's gotta give!"  We're hoping it's the fat.  You can do 20 to 30 minutes of straight repeats up and down or change it up.  I like to do forward up, then backward.  Do side shuffles.  Add a burpee every 10 feet or at the bottom of each one.  Change it up, have fun and bring a friend.
Wednesday
Bring out your dumbbells (or makeshift dumbbells if you don't have equipment–there's no excuse not to get moving!).  Do your warm up then do two to three sets of either 10 or 50 reps of each exercise.  It's your choice.  This time you're going to add a 100 meter jog between each exercise.
Here we go:
Burpees
Dumbbell squat/curl/press (all one motion)
Dumbbell alternating lunges
Sit-ups/crunches with a dumbbell
Dumbbell flies
Dumbbell squats
Dumbbell bent over rows
Dumbbell dead lifts
Overhead triceps extensions
Dumbbell Hammer curls
Flutter kicks
Finish off with a cool down and some stretching.
Thursday
"I feel the need, the need for speed!" is what you should tell yourself today.  It's time to pick it up. You can do this work out on a track, at the park or around your Carmel Valley neighborhood.  It should be about 20 to 50 minutes.  Jog a couple laps to warm up or about 10 – 15 minutes.  Run each distance with about a minute break in between or about the same time it took you to run it.  Start with 100 meters.  Then go to 200 meters.  Or start at 400 meters and go to 800 meters, then work your way back down 800 meters to 400 meters or 200 meters to 100 meters.  Remember to modify the workout to your fitness level.  You can take away or add.  I like to add 1200 meters and 1600 meters to this pyramid.  Also there's the option to keep it simple and one day do 4 x 400 meters and in a couple weeks bump it up to 4 x 800 meters, etc.  Do a couple cool down loops and stretch.
Friday
The weekend is almost here, so let's end the week with a bang.  This time you're going to take all the exercises from Monday and Wednesday and put them together on one list.  The goal is to go through the list only one time, but to do as many reps of each one as you can.  Nothing to it, right?  Do an exercise then 10 jumping jacks or burpees.  Then do another exercise and run 100 meters.  Then do another exercise and follow it up with 10 jumping jacks or burpees.  Repeat this between each exercise.  This is a barn burner that'll really get your heart rate up, burn calories fast and keep it fun.
Saturday and Sunday
If you're just getting started, you may want to rest up and let your body heal on these days.  I would imagine you might be a little sore in the beginning.  But for all you rock stars out there, you might want to add more.  Since you generally have both days, they're many opportunities to get in a long run or a long ride.  I actually do an hour and a half Gut Check boot camp class on Saturday, then either a 3 – 4 hour ride or run on Sunday.  It's your call, but remember to listen to your body and not over-train. Being injured is not fun and will set ya back.
That's all there is to it. Now you can take this format and use the basic outline for the next four to six weeks.  Take ownership of it.  Make it yours.  Add things that you like or remove those you don't.  The goal of this workout is to shock your body and really get you fired up.  The sky is the limit, so remember: you get out of it what you put into it.  My motto is "work hard and play harder."  Can I get a Gut Check?!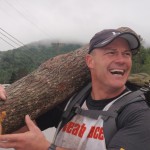 Joe Decker
Joe Decker is recognized as "The World's Fittest Man" after breaking the Guinness World Records® 24-Hour Physical Fitness Challenge in 2000.  As an ultra-endurance power athlete, renowned fitness trainer, and motivational author and speaker, Joe has inspired thousands of people to take control and get into shape.  He is a personal testament to overcoming fitness obstacles and leads by example.  Overweight and out of shape at 25 years old he hit bottom.  Joe transformed his body and life through his "Gut Check Fitness" method, known for its no nonsense approach to eating, exercise and life in general.  In addition to breaking the world fitness record, Joe has won the now infamous Death Race twice and completed many of the world's toughest endurance and strength events, including the 520-mile Raid Gauloises, the 152-mile Marathon des Sables, the Badwater 135, the Grand Slam of UltraRunning, the Tough Guy Challenge UK and numerous Strongman Competitions.  Joe is regularly involved in charity work and established a scholarship program from his winnings on The Weakest Link.  He has also appeared on The Today Show, Discovery Health, The Early Show, The O'Reily Factor, and Fox News and been featured in many media outlets, including The Washington Post, The San Diego Union Tribune, Men's Fitness, Muscle and Fitness, Men's Health and GQ.  After serving three years in the Army with the high-speed 10th Mountain Division, Joe graduated from Western Illinois University with a B.S. degree in Exercise Science. He founded the hard core fitness company Gut Check Fitness and teaches boot camp-style workouts in San Diego, California.  Joe certifies trainers in the "Gut Check Fitness" method and continues to challenge himself and others to strive to be the best they can be.